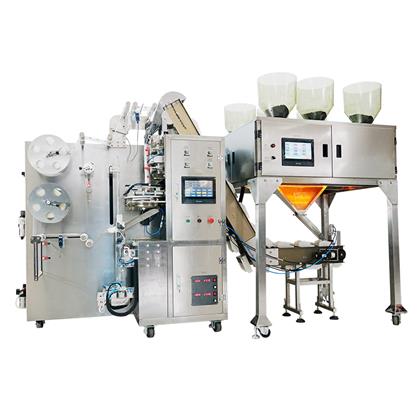 New generation of particle packaging machine triangle bag inner and outer bag integrated machine
Ys-sjb-nw triangle bag inner and outer bag integrated machine
characteristic
1. Suitable for green tea, black tea, flower tea, coffee, Chinese tea, health tea, traditional Chinese medicine tea, granules, etc.
2. It can be used for plane bag packaging, triangular three-dimensional packaging and other forms of packaging bags.
3. The whole machine can automatically complete the functions of feeding, metering, bag making, sealing, cutting, counting, finished product conveying and so on.
4. Imported ultrasonic sealing and electronic scale metering blanking method are selected, with firm sealing and accurate blanking value.

Sealing method: three side sealing and three-dimensional sealing
Sealing method: three side sealing and three-dimensional sealing technical parameters
Metering range: 1 - 7g
Outer bag size: width (W): 80 - 130mm; length (L): 80 - 140mm
Inner bag size: width (W): 60 - 80mm; length (L): 40 - 80mm
Packing speed: 40 bags / min
Overall dimension (L * w * h): 1910 * 1836 * 2497 mm
Overall weight: 800 kg
Total power: AC220V / 50Hz / 3.8kw
Odd source: ≥ 0.6m ³/ min