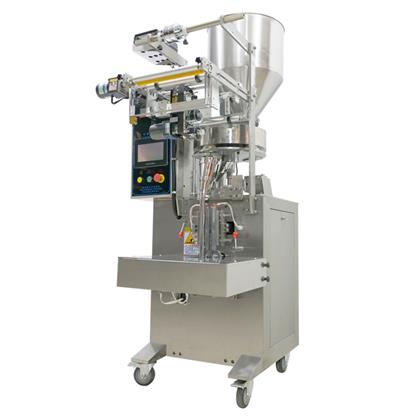 Particle packaging machine
Yp-61 granule packing machine
1. It is applicable to the metering and packaging of granular articles in food, medicine, chemical industry and cosmetics industry.
2. It can automatically complete bag making, metering, blanking, sealing, slitting, counting, and print batch number according to customer requirements.
3. Touch screen operation, PLC control, driving stepper motor to control bag length, stable performance, convenient adjustment and accurate detection value. Intelligent temperature controller with PID adjustment can control the error range of temperature within 1 ℃.
4. Packaging materials: Polypropylene / polyethylene, aluminum foil / polyethylene, polyester / aluminized / polyethylene, nylon / reinforced polyethylene, paper / polyethylene, etc.
Sealing method: three side sealing, four side sealing and back sealing
Technical parameters:
Measurement range: 1 - 100 g (3 - 100 ml)
Bag making size: length (L): 30 - 170 mm; width (W): 30 - 130 mm
Packing speed: 30 - 60 bags / min
Overall dimension (L * w * h): 900 * 1100 * 1900 mm
Overall weight: 400 kg
Total power: 220V / 50Hz / 1.4kw